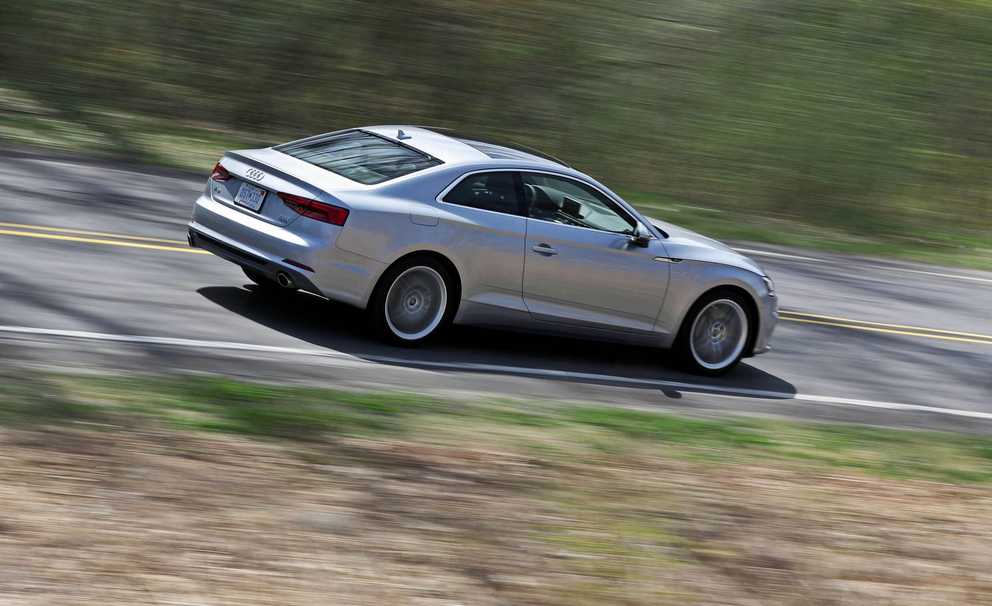 Designed with an all-new exterior, reimagined interior and 252 horsepower, the Audi A5 Coupe is athletic, elegant and exciting. With a more powerful engine, overhauled mechanicals and updated driver assistance features, the Audi A5 is all-new for 2018. And with its available driver assistance technologies and manual transmission, it's sophisticated and sporty as well.
The 2018 Audi A5 is all-new. Built on the updated modular platform that underpins the current A4 and Q5, its more creased styling is an attempt to differentiate the new A5 from its predecessor while bringing it in line with Audi's corporate design language.
Whether the new A5 is more attractive than the outgoing car is subjective. The changes under the skin are less controversial. The turbocharged 2.0-liter four-cylinder engine is new and has more power (now 252 horsepower and 273 pound-feet of torque), the suspension and cabin have been revised and there's a long list of driver assistance features offered. It's still available with a six-speed manual gearbox, and for some reason a new seven-speed, dual-clutch automatic has replaced last year's eight-speed automatic transmission.
Like last year's model, all A5s are equipped with all-wheel drive (AWD). But there are now two distinct systems — A5s equipped with the dual-clutch automatic receive the traditional, full-time AWD system with a center differential, while models with the manual gearbox have a revised system. Called "Quattro with Ultra," the new system dispenses with the center differential and sends power to the rear wheels only when needed, saving fuel.
Driver assistance technologies take center stage with the new A5. Along with full braking in anticipation of an impending crash, there's available pedestrian detection, blind-spot monitoring, rear cross-traffic alert and intervention, adaptive cruise and a lane-keeping assistance system. It practically drives itself, and indeed it nearly does this with the available traffic jam assist system that relieves the driver of much of the acceleration, braking and steering duties.
The cabin has a big infusion of convenience features, too. Its updated look and feel include an available Virtual Cockpit, an extended 12.3-inch high-resolution extended instrument cluster and MMI touch, which allows commands to be "written" by touch. Apple CarPlay and Android Auto smartphone integration is standard, and a head-up display is optional.
There are more ways than ever to tailor an A5 to your liking. Audiophiles will gravitate toward the optional Bang & Olufsen premium audio system that boasts a whopping 755 watts and 19 speakers. An optional sport suspension reduces the ride height nearly an inch and includes larger stabilizer bars, revised dampers and coil springs. Alternatively, a comfort-oriented suspension package with continuously variable dampers is also available.