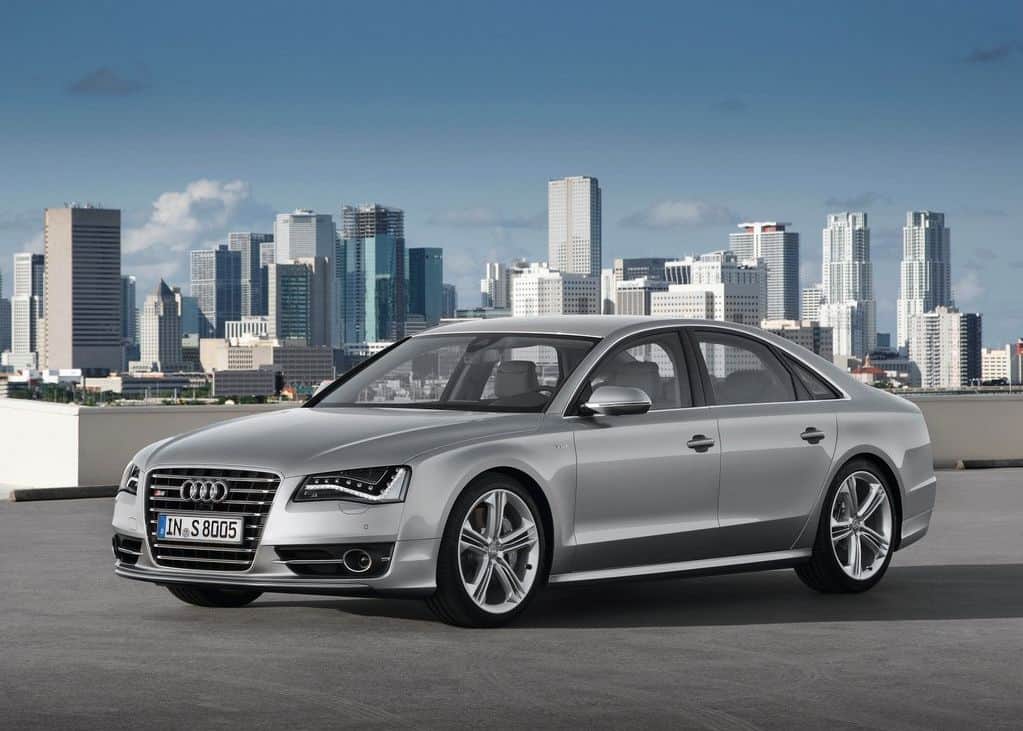 New 2013 Audi S8, which will be launched on the market in spring 2012, is the new head of the Audi S model family - a large, luxurious sedan of supreme power. The new 4.0 TFSI in the Audi S8 generates no less than 382 kW (520 hp) and delivers a constant 650 Nm (479.42 lb-ft) of torque to the crankshaft between 1,700 and 5,500 rpm.
New 2013 Audi S8's Performance
The result is outstanding performance for Audi S8. This makes the fuel consumption of the sonorous and smooth twin-turbo V8 all the more amazing: It averages just 10.2 liters per 100 km (23.06 US mpg), much less than its competitors. The free-breathing, 5.2-liter V10 in the previous model consumed an average of 13.2 liters per 100 km (17.82 US mpg). Fuel consumption decreased by nearly 23 percent despite a 51 kW (70 hp) increase in output.
The eight-speed tiptronic in the Audi S8 also unites sportiness and efficiency. It uses tall gears at low revs whenever possible, but downshifts quickly and comfortably when requested by the driver. The sprint from zero to 100 km/h (62.14 mph) takes just 4.2 seconds, and top speed is electronically capped at 250 km/h (155.34 mph).
New 2013 Audi S8's Design
A decisive advantage of the Audi S8 is the comparatively low weight of 1,975 kilograms (4,354.13 lb). The luxury sedan's ASF (Audi Space Frame) body is made almost entirely of aluminum. Only the B-pillars are made of ultra high-strength steel. The body weighs just 231 kilograms (509.27 lb); a conventional steel construction would be around 100 kilograms (220.46 lb) heavier.
New 2013 Audi S8's Interior
power-adjustable comfort sport seats have been designed exclusively for the Audi S8. The stitching and piping are in contrasting steel gray, while the upper inlays on the instrument panel and tiptronic selector lever present the material Carbon Atlas. Typical of the Audi S models, these have gray dials with white needles - a design which is repeated in the classic analogue clock.
New 2013 Audi S8's Equipment
The driver assistance systems, which are closely networked with one another and the navigation system, are particularly innovative.
A new break recommendation function uses steering motions and additional parameters to detect if the driver is getting tired and issues an appropriate warning.
New to the A8 family is the parking system with 360° camera. Four small cameras record images of the sedan's immediate surroundings. Special views allow the driver to see cross-traffic.
The high-end system can be combined with the likewise standard Bluetooth online car phone, which brings special Internet services to the car and provides WLAN connectivity for mobile devices.
The BangOlufsen Advanced Sound System with its 1,400 watt amplifiers and 19 speakers impresses with its amazing sound.
all of new 2013 Audi S8
Tags: #S8