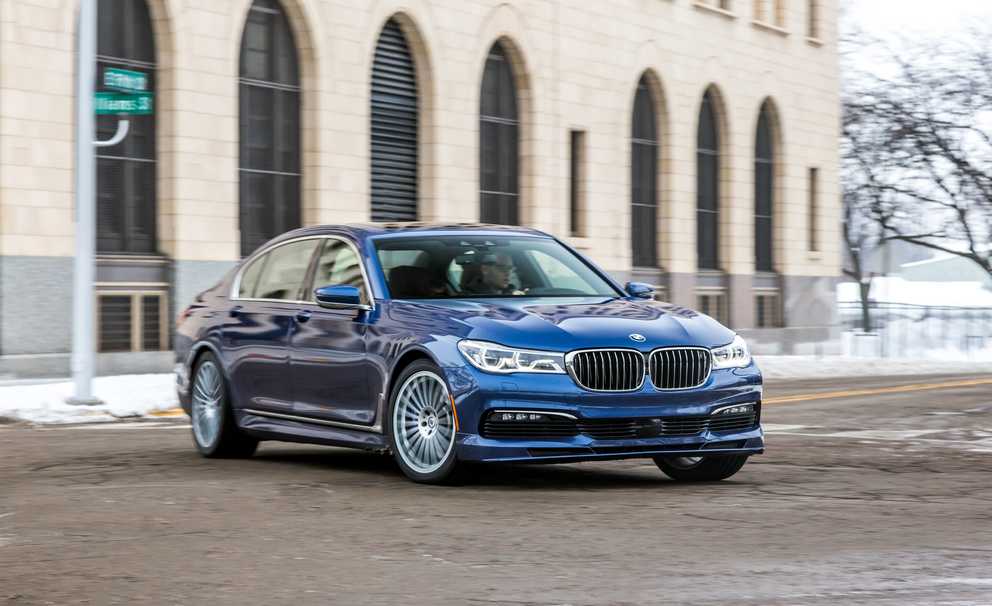 The BMW ALPINA B7 xDrive Sedan is crafted with meticulous attention to detail and is reserved for only the most discerning drivers. Its extraordinary power is achieved through a muscular framework, a new-generation Bi-Turbo 4.4-liter TwinPower Turbo V8 engine, which produces 600 hp and 590 lb-ft of torque, allowing the luxury sedan to accelerate from 0 to 60 mph in a mere 3.6 seconds.
The ALPINA design of the B7 xDrive Sedan is both athletic and elegant, with sleek aerodynamic elements, aggressive front and rear spoilers, and iconic 20-spoke aluminum wheels in 20–inch and 21–inch sizes. The elliptical twin tailpipes add to the dynamic look, making it the rarest prize on the roads.
The ALPINA B7 offers an unmatched level of luxury and comfort. Inside, you'll be surrounded by hand-finished leather upholstery and beautiful wood trims, with 20-way power multi-contour front seats and 44" of rear legroom. You can customize your ride with an array of leather, paint and trim combinations, complete with ALPINA badging, a hand-stitched LAVALINA leather steering wheel, and the unmistakable ALPINA logo.
The new ALPINA Switchtronic 8-speed automatic transmission provides maximum torque and comfort in all situations. With Driving Dynamics Control, you can fine-tune your ride with the push of a button, including a special ALPINA SPORT+ Mode that takes performance to the next level. Launch Control rockets you to maximum acceleration from a standing start.
For a truly dynamic experience, Integral Active Steering works with the high-performance drivetrain and all-wheel drive system. The variable ratio electric steering system at the front axle and active steering on the rear axle allows the wheels to turn up to 3 degrees. With all these features, the ALPINA B7 is a one-of-a-kind masterpiece.
Burkard Bovensiepen found a way to break away from his family's German typewriter-manufacturing business in the early 1960s by modifying BMWs with hotter carbs. Taking the Alpina name from the typewriter company, he achieved success in racing and seemed to have a sixth sense, predicting BMW's high-performance models before the company did. This started with the Alpina 1500 and 1600 sedans, which came before the BMW 1800 and 2002.
At the end of 1977, Alpina left racing to begin producing more powerful 3-, 5-, and 6-series models, which were essentially BMW's M3, M5, and M6. BMW never created an M7, perhaps because Alpina already had its own 7-based creations. However, these cars were not quite what an M7 would have been, as they were too tranquil and composed for the Motorsport badge. Until now, that is. The 2017 B7, Alpina's most recent 7-series, is what the largest M car should be, according to us, after a continuous stream of increasingly sophisticated and intense M sedans.
The all-wheel-drive B7 packs a punch with its twin-turbo 4.4-liter V-8 from the 750i, equipped with Mahle pistons, a special exhaust system, larger turbochargers that can reach up to 20.0 psi of boost, and an Alpina intake and intercooler setup. This combination gives the B7 a whopping 600 horsepower and 590 pound-feet of torque, which is 155 ponies and 110 pound-feet more than the stock version. It is even equal to the forthcoming 12-cylinder M760i, BMW's first M-badged 7-series. Alpina continues to show us what the future holds.
The B7 is the quickest dealership-sold BMW that we've ever tested, reaching 60 mph in just 3.4 seconds and the quarter-mile in 11.6 seconds at 122 mph. Its claimed top speed is a staggering 193 mph, perfect for those open highways. The B7 also impresses with its high-speed stability and smooth acceleration.
To make the most of the 600 horsepower, the B7 comes with the excellent ZF eight-speed automatic transmission from the 7-series, with more aggressive shift mapping. The Alpina shift buttons on the back of the steering wheel make it easier to unlock the full potential of the vehicle. The buttons are hidden nubs wrapped in the same leather as the rest of the rim, making it all the more interesting.
The B7's air-sprung suspension is nothing short of remarkable; it's designed to provide maximum grip and comfort, something that is becoming increasingly rare in the BMW M portfolio. The Alpina limo offers exceptional neutral handling and a 0.97 g force, while still providing a comfortable ride, even with large-diameter wheels and thin tires. It outperforms all other large sedans, except for the Audi S8 Plus and the Tesla Model S, and it features exclusive Alpina flourishes. With a base price of $137,995, the B7 is truly worth its value and would make an excellent M7 or serve as a reminder of what BMW's M division could and should be producing.