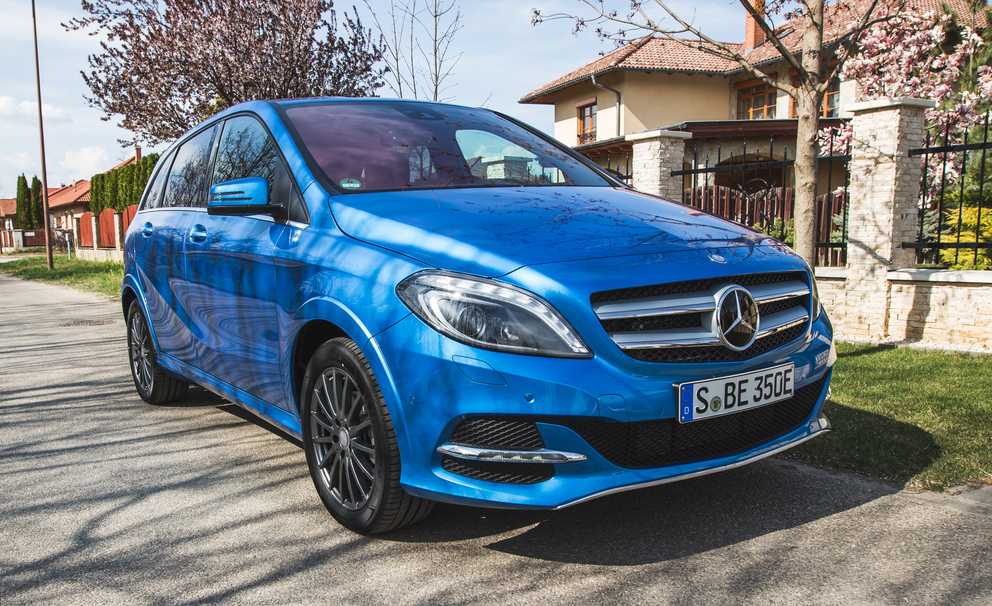 For 2017, the Mercedes-Benz B250e gets revised option packages, an Electric Blue interior option, Apple CarPlay and Android Auto smartphone connectivity and 4G LTE data speed for in-car internet.
Eco-friendly and utility are two words you don't often find in the same sentence, unless that sentence happens to be about the 2017 Mercedes-Benz B250e.
There's a simple reason for this juxtaposition. Namely this compact electric vehicle (EV) combines a true zero-emissions powertrain with a usefully spacious interior than can comfortably carry four people or a lot of cargo.
The B250e (formerly known as the B-Class Electric) is propelled by a 132-kilowatt electric motor fed by 28-kWh lithium-ion battery, and all these components are supplied by Tesla Motors. The combination gives the car an operating range of 84 miles, which is a useful amount though no different than many other EVs. Said battery pack can be recharged in 30 hours from a standard 110-volt wall outlet or 3.5 hours with a dedicated 240-volt charging station. Acceleration is impressive, in spite of the fact that the heavy powertrain leads the B250e to tip the scales at nearly 4,000 pounds.
Step into the five-passenger cabin and you?ll find good head- and legroom front and rear, although the backseat's center position is only suitable for kids under 10. The B250e's cargo hold is spacious and has a flat load floor because the battery pack is located beneath the floor.
The B250e has a few unexpected downsides considering the Mercedes badge it wears, and these include very firm seats and hard-plastic dashboard trim. Many features that you would expect to be standard equipment are instead optional. All this is a reminder that the B-Class is a simple utility package in Europe, and it has much the same personality even with an EV powertrain.
Though the Mercedes B250e's utility sets it apart from the EV crowd except for the Ford C-Max Energi, there are plenty of other all-electric models from which to choose. We particularly like the four-door utility of the futuristic BMW i3, not to mention its stylish interior, cutting-edge carbon-fiber construction, and superior efficiency and performance. The Volkswagen e-Golf offers similar room inside and agreeable driving dynamics. More mainstream choices such as the Ford Focus Electric and the Nissan Leaf also serve up many of the same strengths at lower price points.
That said, there are few models on the market that offer a better blend of eco-friendliness and amiable around-town utility than the 2017 Mercedes-Benz B-Class Electric, and the package drives very well.
The 2017 Mercedes-Benz B250e comes in just one configuration: a four-door hatchback with seating for five passengers.
Standard equipment includes 17-inch alloy wheels, LED daytime running lights, heated windshield, automatic wipers, air-conditioning, keyless entry, premium vinyl upholstery, 10-way power-adjustable front seats with four-way power lumbar support, seat memory settings for up to three drivers, 60/40-split folding rear seats, cruise control, forward collision mitigation, Bluetooth phone and audio connectivity, 7-inch display screen, Mercedes' COMAND interface and Mbrace emergency communications, and an audio system with a USB port and HD radio. Also standard is a deep-charging mode for the battery that makes it possible to eke out a few extra miles between recharges.
Most options are grouped into packages. The Electric Blue Interior package includes top-stitched blue and gray vinyl upholstery and dash and door trim. The Interior package bundles leather upholstery, heated front seats, multi-color ambient lighting, and top-stitched vinyl dash and door trim. The Premium 1 package gets you radar-based regenerative braking (which adjusts the amount of regenerative braking effect based on traffic conditions), keyless entry and ignition, and satellite radio. The Premium 2 package adds high-intensity bi-xenon headlights, auto-dimming driver-side and inside mirrors, a universal garage door opener, an 8-inch video screen display and a Harman Kardon audio system. The Premium 3 package gets you a rearview camera, the COMAND navigation system with voice controls, in-dash CD/DVD player, Apple CarPlay/Android Auto smartphone integration capabilities, and five years of satellite traffic and weather services.
Stand-alone options include a Smartphone Integration System package with Apple CarPlay/Android Auto functionality, heated front seats, genuine wood trim, multicolor ambient lighting, a rearview camera, blind-spot monitoring system and automated parallel parking. Mercedes-Benz also offers a trio of Mbrace system enhancements: Connect, Concierge and Entertain. Connect features remote locking and diagnostics, a vehicle finder for parking situations, and a host of smartphone-based services such as movie showtimes and airline flight information. Concierge includes traffic, weather and turn-by-turn navigation guidance. And Entertain offers a variety of streaming radio and music services.
The 2017 Mercedes-Benz B250e is powered by a front-mounted 132-kilowatt electric motor connected to a lithium-ion battery pack mounted beneath the floor. The motor's output, which translates to 177 horsepower and 251 pound-feet of torque, is delivered to the front wheels.
The EPA estimated range for the B250e is 84 miles, a figure that translates to 85 mpge (miles per gallon equivalent) in the city and 82 mpge on the highway. The standard range-extending feature gives the car an additional 15 miles of range, but Mercedes recommends that you use it only occasionally to prevent premature battery degradation.
Recharging can take anywhere from 30 hours on standard 110-volt household current to 3.5 hours with a 240-volt charging station. The EPA rates the B250e's efficiency at 40 kWh of electric power used for 100 miles of driving. For comparison, the BMW i3 has a rating of just 27 kWh per 100 miles. In other words, the B-Class uses a lot more juice to go the same number of miles.
During testing, a B-Class Electric sprinted from zero to 60 mph in an impressive 6.7 seconds. That's about 2 seconds quicker than the average electric vehicle, not to mention 1.2 seconds faster than the official Mercedes-Benz claim. The only EVs we've tested that are quicker are the BMW i3 (6.6 seconds) and the Tesla Model S (4.4 seconds).
Inside the cabin, the 2017 Mercedes-Benz B250e offers decent headroom for anyone who isn't taller than average. There's also adult-sized legroom in the backseat, which is not something a lot of compact EVs can claim. The seats are a little too firm for us, and this might ultimately make you glad this car has only 80-some miles of cruising range per charge.
The noticeably hushed passenger cabin features the stylish good looks you'd expect from a Mercedes. Nevertheless, the abundance of hard plastics is disappointing, though this can be remedied by opting for the available leather upholstery and genuine wood trim. The screen for COMAND system that is perched atop the dash looks like a last-minute "where can we put this?" addition rather than something carefully integrated into the existing design.
One strong suit is the size of the cargo hold, with a generous 21.6 cubic feet of room behind the rear seats. Fold down the rear seatbacks, and the available space more than doubles to a very healthy 51.4 cubic feet.
From behind the steering wheel, the 2017 Mercedes-Benz B250e exhibits the traits we've come to expect from electric cars, like snappy acceleration right off the line, which is all the more impressive considering the car's 3,900-pound curb weight. Switching between the available driving modes and brake regeneration settings gives you the chance to fine-tune the car's performance along a continuum that ranges from energy efficient to sporty. There's enough power to haul a full load of people or cargo.
Speaking of adjustable regenerative braking, it can be manually controlled via the three-position steering-wheel-mounted paddle shifters, or it can be left in the radar-based fully autonomous mode that works by sensing the traffic in front of you and dialing in the proper amount of regeneration for conditions. Best of all, the regenerative braking has a natural feel to it without the quirky surging feeling so common to such systems.
The car's short-travel suspension delivers a firm ride quality that can get a little wearisome. Though it's not a problem on short hops, we have to say we'd expect better from a vehicle car in this price range. This utility vehicle drives with excellent refinement, plus it can carry a lot of stuff for a useful number of miles, yet it also always reminds you that utility remains the underlying message.