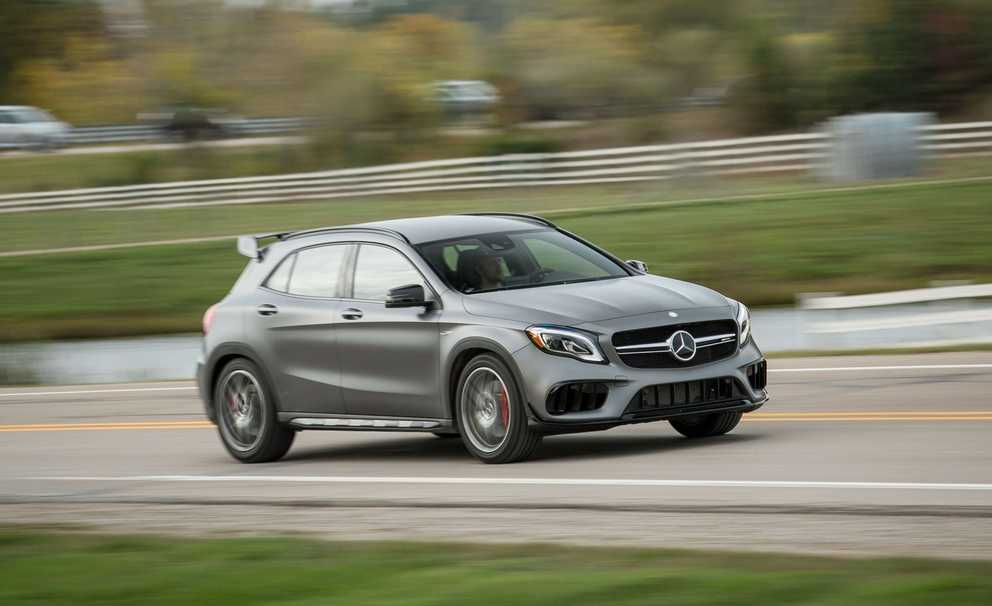 The amazing 2018 Mercedes-AMG GLA-Class combines the best of an SUV with the passion of a Mercedes-Benz. It's the perfect size for flexibility, fuel-efficiency, and entertainment. Plus, its cutting-edge engineering provides real capability, luxurious features, and the latest technological advancements.
When you step inside the cabin of a Mercedes-Benz, you'll be delighted by the rigid standards that make it so rewarding to touch. The GLA is incredibly spacious and stylish, with a winglike dash and a power liftgate. Plus, the power front seats adjust in 14 different ways, and the split rear seats make room for a generous 41.8 cubic feet of cargo. All of this comes at a surprisingly affordable price.
The GLA250 is designed to take on the corners with ease, not to cut them. That's why it comes with robust 18-inch wheels and a responsive 4-wheel independent suspension that's perfect for any terrain. And for an extra touch of sparkle, there are standard chrome roof rails, plus 19-inch wheel options and roof-mounted racks and carriers available.
The "power domes" on the hood of the GLA250 are a Mercedes-Benz classic! Plus, the powerful 208-hp inline-4 turbo engine is equipped with multispark ignition and high-pressure Direct Injection, meaning it can self-tune every few milliseconds to help you get more out of your fuel. With DYNAMIC SELECT, you can customize the mode to fit your driving style and mood.
The GLA250 4MATIC's variable-torque all-wheel drive offers you the best of both worlds - it's lightweight and fuel-efficient, but also has great on-road agility and off-road ability. 4MATIC® keeps track of grip at each wheel, and can instantly send up to 50 percent of the engine's torque to the rear wheels when you need it. Plus, with just one touch, you can switch to Off-Road mode and tailor the driving systems to the terrain!
Experience the best of both worlds with the 7-speed DCT transmission! Enjoy the fuel-efficiency and fun of a manual, as well as the relaxing comfort of an automatic. With its racing-derived dual-clutch design, you'll get quicker and more precise shifts than you ever thought possible. And you can take control with the standard shift paddles and multiple modes of DYNAMIC SELECT.
The AMG GLA45's handcrafted engine is a powerhouse, producing 375 hp and a whopping 26.1 psi of maximum turbo boost, the most of any 4-cylinder engine in production, this vehicle can go from 0 to 60 mph in just 4.3 seconds. The engine is paired with a seven-speed dual-clutch automatic transmission that provides smooth and responsive shifting, making the GLA45 4MATIC a joy to drive. It's sure to keep you firmly planted on the road with its torque-vectoring AMG Performance 4MATIC®, 19-inch AMG® wheels, and optional 2-stage AMG RIDE CONTROL suspension. Plus, it looks great, so you're sure to turn heads wherever you go.
Inside, the 2018 Mercedes-AMG GLA45 4MATIC is luxurious and comfortable. The cabin is spacious and well-appointed, with leather seats and a variety of high-quality materials. The vehicle also comes with a variety of convenience features, such as a power liftgate, keyless entry, and push-button start.
Overall, the 2018 Mercedes-AMG GLA45 4MATIC is a fantastic choice for anyone who wants a sporty and luxurious crossover SUV. With its powerful engine, advanced technology features, and comfortable interior, this vehicle is perfect for long drives or weekend getaways. So if you're looking for a vehicle that combines performance and luxury, the 2018 Mercedes-AMG GLA45 4MATIC is definitely worth considering.