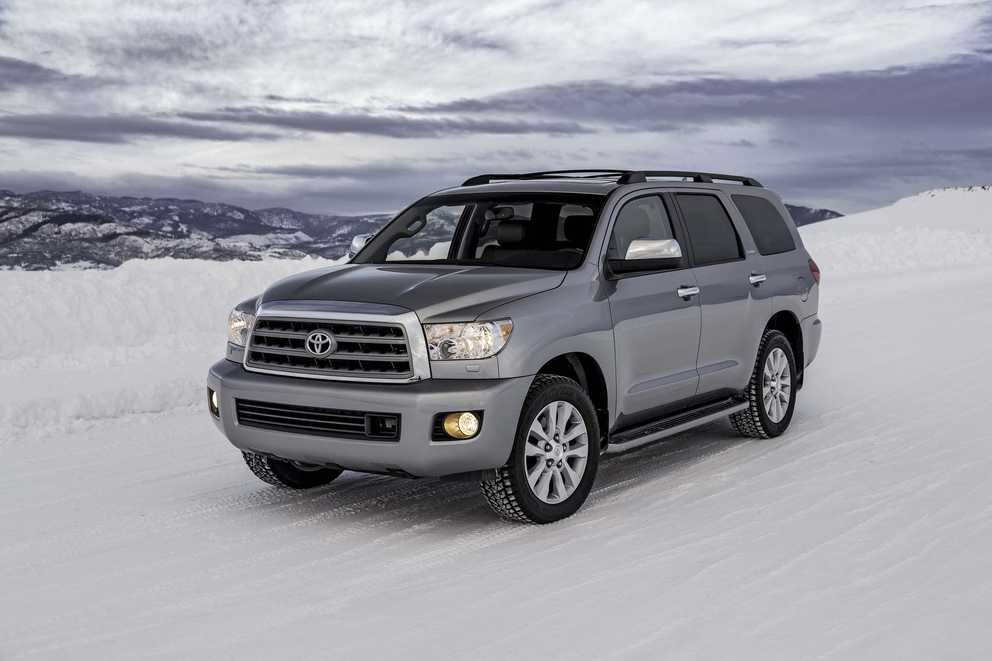 The 2017 Toyota Sequoia is a formidable competitor among large, three-row SUVs such as the Ford Expedition, GMC Yukon, Chevrolet Tahoe, and Nissan Armada. It boasts a powerful V-8 engine and plenty of cabin space; however, its competition has advanced significantly since this generation of Toyota's SUV first arrived back in 2008. Though the Sequoia has received minor updates since then, it is beginning to show its age.
For nine years, the Sequoia has gone without a redesign, and this is most apparent in its dated infotainment system and lack of modern driver safety features such as lane departure warning and forward collision mitigation. Other big crossover SUVs provide similar interior space but with increased fuel efficiency and a better blend of ride comfort and secure handling.
Nevertheless, the Sequoia still offers a more comfortable ride than many in its class, particularly when equipped with the Platinum trim's air suspension. It is also capable off-road, thanks to its substantial ground clearance, though it's not suitable for tight, narrow trails. Ultimately, while the Sequoia may not be our top pick for a big three-row SUV, there are enough positives to make it worth considering.
The Sequoia is equipped with a robust 5.7-liter V-8 engine that produces an impressive 381 horsepower and 401 pound-feet of torque. It comes with a six-speed automatic transmission and can be had with either rear- or all-wheel drive. While the powertrain provides plenty of speed, the Sequoia isn't the most agile SUV around; it leans quite a bit in corners and doesn't offer much in the way of driving thrills. Not to mention, its fuel economy is quite poor.
What the Sequoia lacks in agility, it more than makes up for in space. Even the third row is comfortable enough for adults, and when all the seats are occupied, there's still 18.9 cubic feet of trunk space. With the second and third rows folded, you're looking at a whopping 120.1 cubic feet of cargo space. The interior feels sturdy and reliable, though it's not as polished or refined as some of the Sequoia's competitors.
The 6.1-inch infotainment touchscreen looks small amidst the expansive dashboard. It's easy to use, but it's a few years behind the competition in terms of features. Bluetooth, USB ports, satellite radio, and an available 14-speaker JBL audio system are all present, but don't expect Apple CarPlay, Android Auto, or an onboard Wi-Fi hot spot.
The 2017 Toyota Sequoia is a throwback, a three-row, full-size SUV that's as old-school as it is capable. Unfortunately, it's also pretty inefficient and outdated compared to its more modern competition, earning it a 5.2 out of 10 overall.
You can get the Sequoia with rear- or four-wheel drive and choose from SR5, Limited, and Platinum trims. Rivals like the Chevy Tahoe and Suburban (and their GMC Yukon and Yukon XL siblings) have been redesigned more recently than the Sequoia, which is entering its 10th year with few changes. When it first came out in late 2007, it was great, but now the competition has surpassed it in many ways.
The Sequoia proudly displays its machismo, while many of its key rivals have been toned down in their design lately. It's based on the last-gen Tundra pickup, so it looks cartoonishly muscular to some. There's no hiding its truck roots, which might appeal to those who don't like minivans.
The cabin of the Sequoia is predictably like a full-size pickup up front, with two more rows of roomy wagon behind. The instrument panel is functional without looking too plain, but designed for work use. You can opt for dual captain's chairs to replace the second row bench, reducing capacity to seven. Both second and third rows fold forward to create a flat cargo floor. Like its rivals, the third row is best for kids, but it feels a bit roomier than most crossovers.
At the start, you could pick from two V-8 engines for the Sequoia, but Toyota has slimmed it down to just one 5.7-liter V-8 with 381 horsepower and 401 pound-feet of torque. No off-road hardware or four-wheeling model comes with the Sequoia, though 4WD is optional on all trims. But if you're looking for a good off-roading experience, Toyota's 4Runner and Land Cruiser have ya covered with three rows of seats.
The Sequoia may have the same underpinnings as the old Tundra pickup, but it rides and handles way better. Its four-wheel independent suspension gives it good stability, but bumpy roads can still give it trouble. The ride quality is decent for a body-on-frame truck, and the top-tier Platinum's active variable air suspension system makes it even smoother.
Where the GM rivals have the upper hand is inside. The Sequoia has a lot of hard plastic in the dash, and it's missing some of the fancier features like push-button start and USB ports. But it does have one unique Toyota feature: a power rear window built into the tailgate—great for hauling longer stuff.
It's no shocker that the Sequoia's age means it doesn't have automatic emergency braking. Neither the NHTSA nor the IIHS have crash tested it either. But you do get the standard front, side curtain and seat-mounted side airbags, plus knee airbags for the front passengers.
The Sequoia's EPA rating of 13/17/15 mpg in rear-drive spec is way behind the competition. The 4-wheel-drive version gets 13/17/14 mpg.
The Sequoia is based on the Tundra truck, and it hasn't had a redesign since 2008. So it's not as sleek and modern as some of its rivals, and its fuel economy is way worse. But if you're looking for a reliable full-size SUV and don't mind the MPG, the Sequoia could be a good fit. It's got Entune apps to keep you connected, just no 4G data hub.