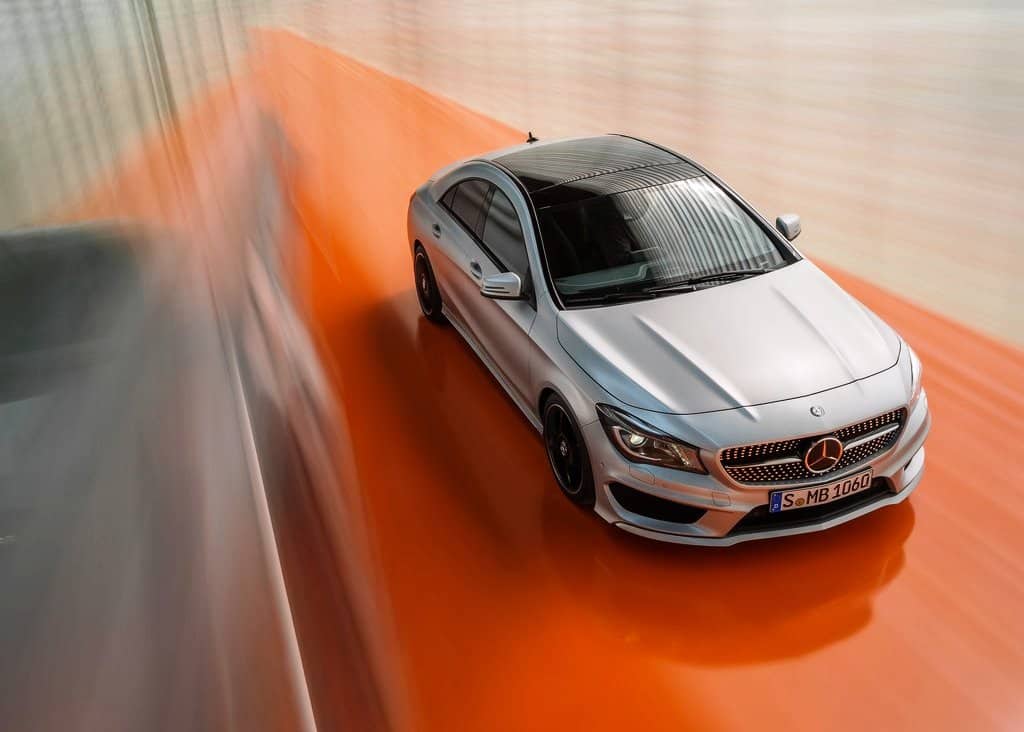 2014 Mercedes-Benz CLA-Class is newest Mercedes Coupe which is set to form a new segment. So innovative features for CLA-Class is a radar-based braking system. This system is able to warn the driver to start braking when the radar detects an object in front of the car. The focus of the 2014 CLA-Class is a system of aerodynamic and choice 4Matic all-wheel drive system.
Mercedes-Benz CLA-Class has a thrilling sporty proportions and dynamic design idiom strong is ispired by CLS-Class. bonnet embedded in the front end with powerdomes and diamond radiator grille. Athletic impression from the rear of the drawn-in C-pillar in conjunction with shoulder muscle above the rear wheel arch lining. Tail lights flanked by lines of shoulder muscles that extend to the rear, the horizontal orientation of the rear lights emphasize the width of a strong and aesthetic. A large panoramic sliding sunroof are available optionally add a sense of space to the interior. Additional panels in the middle of the rear axle and rear dampers optimized aerodynamics followed by Diffusor improve airflow under the underbody. This clearly optimizes the aerodynamic system as the focus of a vehicle.
Selection of high-quality materials and a perfect combination of materials makes the interior so appealing CLA-Class. The instrument panel combines five round ventilation. Outer ring round vents have a high quality finish coated. contrasting colored stitching available, according to the interior appointments of the selected option. do not ask about the features offered, Mercedes clearly has offered modern features based on future features.
Engine options include petrol and diesel engines. The first petrol engine is the 1.6 liter with outputs 90 kW (122 HP) and 2.0 liter with outputs 115 kW (156 HP). two diesel engines is CLA 200 CDI which produces 100 kW (136 HP) and 220 CDI CLA offering output of 125 kW (170 HP). all its features the ECO start / stop, and combined with a six-speed manual transmission or a transmission 7G-DCT dual clutch automatic.
Mercedes-Benz CLA-Class is available for booking with immediate effect and will be shipped to dealers Germany in April 2013. Prices start from € 28,977.
Tags: #2014 mercedes-benz cla-class #mercedes-benz cla-class #mercedes cla-class